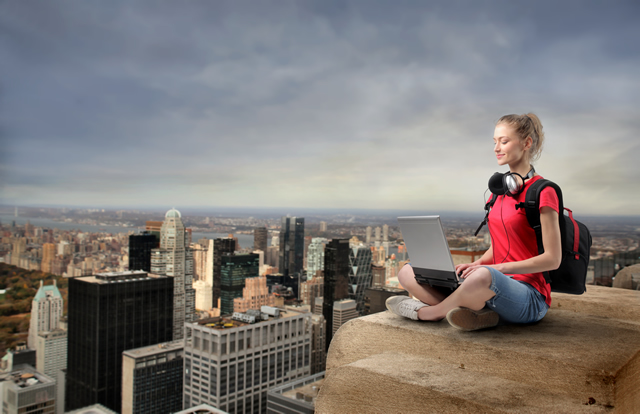 Whether you're travelling for a few weeks, a few months or a few years, the gear that you decide to bring with you is worth some thought.  People's first reaction is to stuff their bags to the brim, filling it with everything they think they'll need.  This is a terrible way to go – overpacking is way worse than under packing.
If you're missing an item, you can always buy a cheap version of that item on the road – no big deal.  If you pack an item you don't need…well you just carried that item for your entire trip.  For many people, that means they dealt with extra weight, less space and more stress having to pack and lug that useless item halfway around the world.
Feel the freedom
Don't lament at the things you can't bring, look at the bright side: having to carry your whole life on your back can be incredibly freeing.  Backpacking is an exercise in minimalism.  You quickly find out what's important to you when you have to decide whether or not to bring it.
It also means that the gear you bring is very personal.  Things that are important to one person may not be important to another.  The gear you bring is completely your choice.  It's for that reason that I have split the gear below into categories.  Whether or not you decide you want to bring gear from that category is up to you.
Your backpack
This is the single most important piece of gear that you'll buy.  You COULD use a standard camping pack if you have one, but I suggest buying one specifically for backpack travelling.  Why?
they can open all the way and lay flat like a standard suitcase
they can fit in the carry on bin (no more checked items!)
they have laptop pockets and other features that camping bags don't
Don't worry – you don't have to break the bank to find a great travelling backpack.
Best Budget Backpack
Best Overall Backpack

Osprey Farpoint 40

price: around $127 USD

The Farpoint 40 is an amazing bag for any one bag traveller.  It's built-in frame and waist strap allows you to disperse the weight of your bag over your hips, making it a very comfortable option.  The shoulder and waist straps can also be zipped away, leaving a clean-looking duffel-sized bag.  There are 2 compartments: the main one comes with compression straps to secure your clothing, and the laptop compartment which has a bunch of organizational pockets.

I've trucked this bag all around the world, and it's easily the best budget bag you can buy.  Osprey is renowned for it's high quality, so plan on keeping this one for awhile.

GORUCK GR2

price: $355 USD

If money is no object, you may want to spring for a GR2.  The bag itself is the same size as the Osprey Farpoint 40, but has many more organizational pockets, including a bomb-proof laptop compartment!  It's made from military-grade materials, so you can count on it being extremely durable and water-resistant.

Perhaps one of the best quality bags you can find, if you're willing to pay the premium.
Still unsure which bag to get for your travels?  Take a look at our backpack chooser page:
How to choose your backpack
Travel Wear
Clothing is where most people trip up when sorting out their backpacking gear.  This is true for both short and long-term travel: people always worry about not having something they "need", when they should worry about carrying around something they don't need.
Your clothing choices should be simple, versatile and easy to care for.  I'm also not a believer in investing hundreds of dollars in new backpacking clothes – most of my clothes come from my closet, with a few strategic additions when they made sense.
Finally, there is fashion.  When people think of a backpacker, they often see someone wearing t-shirts, convertible shorts, hiking shoes and sunglasses.  I refuse to travel this way.  My favourite destinations are metropolitan cities like Tokyo, Lyon, London and New York City.  I'd much rather dress like a local than stand out like a sore thumb.
How do I do it?  Here's my wardrobe list for 1 year of travel:
Clothing List (men's)
6 button downs (1 short sleeve, the rest long)
2 t-shirts (1 short sleeve, 1 long)
1 golf shirt
2 pants (grey jeans+khakis)
1 pair of shorts
6 socks/boxers
1 light fleece jacket
1 pair swim trunks
1 pair of flip flops
1 pair of boots (Blundstone)
1 winter hat
1 summer hat
Still stumped?  Click below for a primer on how to choose what to wear:
A Crash Course on Travel Wear
Electronics
Most people don't want to leave their electronics behind when they travel, but you can't bring everything!  You have to be strategic in what you bring, and try to use a single device for multiple purposes if possible.
For instance, if you're looking for a device for web-surfing, watching movies, reading books, and playing games, then bringing a single tablet might be all you need.  On the other hand, if you read books a lot more than you do the other things, you might prefer the comfort of your favourite eReader.
Like everything else, this is very personal.  Here's what I brought:
Electronics List
13″ Macbook Pro+charger
Kobo Mini eReader
Koss PortaPro Headphones
xMini mini speaker
Miscellaneous
Then there are the things that don't fit into any category.  Whether for safety, luxury, work, or comfort, it's unavoidable that you'll bring more than you think.  My advice here is: never to bring anything you won't use on a weekly basis.  The only exception to this is a small first-aid kit, which I encourage everyone to bring.
Here's what I bring:
Clothing List
2 notebooks (journal+work)
toiletries
small first aid kit
water bottle
…to be continued
I'll be adding more to this list every week, so check back soon!