How to Choose your Backpacking Backpack
Posted in Backpacks
Your backpack is the most important piece of gear that you'll buy.  A bad backpack can frustrate even the most well-planned trips.  It's worth it to spend a little time figuring out your needs so that you can choose the right bag.
Pick your travel type and find the bag that matches you in the table above.
Pick your travel type
Don't let anyone tell you what kind of bag you need – you need to choose the type of bag based on your type of travel.  Which type are you?

The Weekender: This type of traveller is well-established in their life, but likes to take frequent weekend trips.

The Explorer: The travel bug strikes this type often.  They'll find themselves taking a few weeks at a time to travel to a new destination.

The Gap Year: Taking anywhere from a few months to a year, this type of backpacker is making a real commitment to travel.  Often they don't have a job, but may pick up some odd jobs while they are abroad for some extra cash.

The Nomad: This traveller carries their whole life on their back.  They are travelling indefinitely – working on the road as they travel.  Since they often work online, they're also called "digital nomads".
Pick your backpack
Below is a table with the most common backpacks.  After you've chosen your type of traveller above, look at the bags below to see which one fits your style.
ALL of these backpacks have the following two features:
zips open like a suitcase
small enough to fit in the carry-on bin of an airplane
Tom Binh Aeronaut 30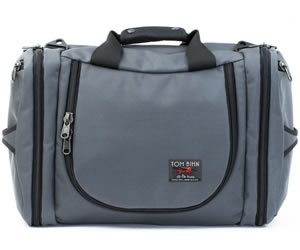 The Aeronaut is the smallest bag on our list – but that's a good thing if you're using it for weekend trips.
The bag itself looks very close to a small duffel (aka a "weekender"), but with all the benefits of a convertible backpack. You'll be just as comfortable using it in either duffel or backpack mode.
The duffel-style main pocket allows you to pack your sport coat as easily as your more casual clothing, so it's an especially great choice for those that like to be fashionable on the road.
The compartments on the side of the bag can be unzipped from the inside, allowing you to use the room for the main pocket if you're carrying something hefty. If not, they are a perfect place to stash another pair of shoes.
Overall a perfect bag for a quick getaway. If it's too small for you, it has a bigger brother, the Aeronaut 45.
Osprey FarPoint 40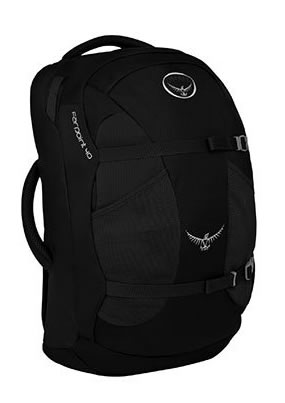 The Farpoint 40 is a great compromise between cost and features.
Not only do you get a full frame within the bag (rare for a carry-on travel bag), but you can also zip away the backpack/hip straps and use the included shoulder strap for a cleaner look.
The main compartment features compression straps to really pack your clothing in. The laptop compartment is at the front of the bag, so it could feel a bit exposed.
There are fewer organizational pockets on this bag than some of the others on this list, but the price more than makes up for it. It's an amazing bag for both budget travellers and seasoned onebaggers!
Tortuga Travel Backpack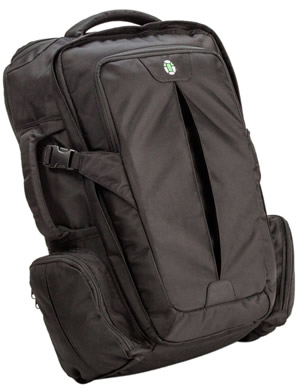 The Tortuga Travel pack is by far the roomiest bag on this list.  It also has the most organizational pockets; besides the primary compartment, there are also 4 internal pockets, 4 external pockets (2 each on the hip and side) and a compartment which can easily accommodate a 17″ laptop.
Like the Osprey Farpoint 40, the Tortuga has an internal frame along with a hip strap to allow you to distribute weight.  The padded hip strap itself is quite comfortable, but the shoulder straps are a little less so.  The hip and should straps do zip away, but there is no way to attach a duffel-style shoulder strap to this bag.
In general, this bag is a lot like the Osprey Farpoint 40, just bigger.  The extra space is useful for long-term travellers who aren't yet accustomed to packing light, but might feel a bit clunky for seasoned minimalists.
GORUCK GR2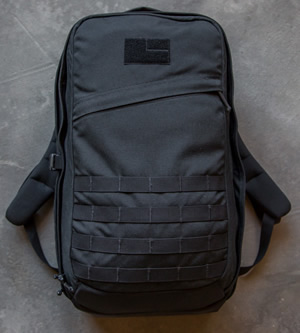 The GR2 was designed for travellers in mind. Most of GORUCK's other bags are built for rucking (essentially carrying weight over long distances), and as such are extremely durable and comfortable. The GR2 is no exception to this rule.
It doesn't have a waist strap or frame, because it's designed to sit high on the shoulders (like a rucking bag). This design allows for comfort without the extra equipment. The downside of this is that the GR2 doesn't convert into a duffel, either.
It's built of extremely durable materials, and has a lifetime warranty.  It features two main compartments plus a "bombproof" (!!!) laptop pocket.  The second "main" compartment may be very useful as an organizational tool (i.e. dirty laundry and clean laundry).  There are also a TON amount of internal organizational pockets.
When full, the GR2 has a wider profile than any of the other bags on this list, but GORUCK recently released a slightly lower-profile 34L  version of this bag which looks a bit more sleek.
It's a really high-quality and durable bag for those that want a full-time backpack and can afford it. If the GR2 fits your style, it could be well worth the price.
MINAAL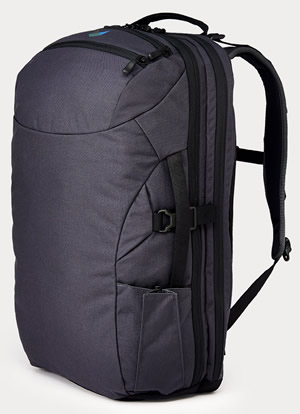 The Minaal bag came from a Kickstarter campaign by travellers for travellers. It's by far the best-looking bag of the bunch, allowing you to discreetly zip and clip away the ends of straps, leaving a crisp, low-profile look.
The bag itself is just a tiny bit smaller than the Farpoint and the GR2 on paper, but all of the storage is concentrated on the main pocket, so you get a lot more gear in there than you might think.
One of the best features of the bag is the laptop pocket, which is lockable and suspended in a sleeve. This means your device won't get knocked around no matter which way you put the bag down.
The beauty of the bag comes at the expense of comfort – there isn't an internal frame, and the hip belt is much less comfortable than the other bags on this list. That being said, the back pad and straps are pretty comfortable and allow a lot of airflow.
There is an included rain cover – not a huge game-changer, but shows the level of understanding Minaal has for travellers.
Overall, a great bag with loads of features. Well thought out and built to last.